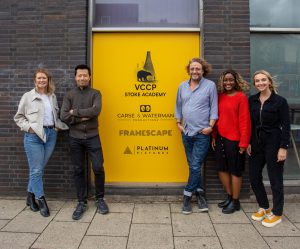 VCCP has today announced the opening of a new office in the birthplace of the British creative industry, Stoke-On-Trent. It becomes the agency's first UK office outside London and reflects the challenger network's ambition to open up and attract more diverse talent. In its initial phase, the office will function as an Academy with staff from VCCP London working to raise awareness, provide training, work experience, mentoring and paid internship schemes, with a future apprenticeship scheme set to launch next year.
Set against a backdrop of recent art colleges and advertising school closures and a global pandemic that has exacerbated the situation, the pathway to the industry has become narrower with more and more opportunities being removed. People outside London are struggling to see advertising and media as a career option, especially those from low-income areas or from diverse backgrounds.
Stoke has one of the highest rates of economic deprivation, especially amongst black, Asian and minority ethnic communities. Within the creative industry, cities like Stoke are often overlooked in favour of Manchester or Leeds when setting up outside the South East.
Open to people in Stoke and surrounding areas, VCCP Stoke Academy will tackle three major recruitment barriers faced by the industry which include a lack of awareness of the creative industry as a potential career option, a dearth of pathways into entry-level jobs around the country and the extremely high cost of moving to and living in London where most entry-level job opportunities are to be found.
To find out more about VCCP Stoke Academy please visit https://www.vccp.com/news/2021/oct/vccp-opens-an-academy-in-stoke